New Educational Resource for Members
NEW! CCP Video
The College is pleased to announce the launch of a new educational video to assist members in understanding and completing the
Continuing Competence Program (CCP)
.
As members of the College, you are required to complete the CCP as part of your annual renewal of registration. This is one of the ways you demonstrate to the public that you are committed to professional, ethical, qualified and accountable practice.
The new video walks through the four steps involved in completing the CCP. Students, employers and other stakeholders may also use this video to better understand how members of the College remain current in their knowledge and continually enhance their practice.
To view the College's CCP video, click on the image below.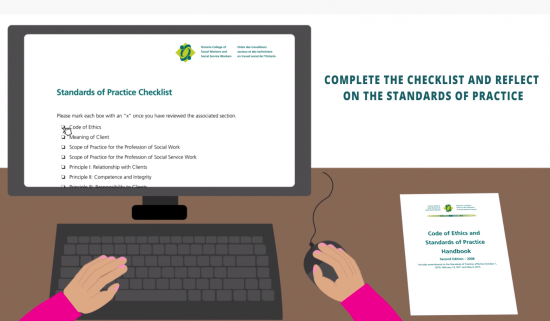 Reminder: Complete Your CCP Documents
You are required to complete the Declaration of Participation in the Continuing Competence Program as part of your annual renewal of registration. If you haven't done so already, there's still time to complete your CCP documents for 2017 to ensure that you're meeting this important professional obligation.
Already completed your annual renewal of registration? It's never too early to get started on your CCP for 2018! You can download the CCP documents from the
College website
and save them to your computer for future updates.
Note: The College has recently revised its CCP documents so members can insert the year to keep track of what CCP year you're working on.
CCP participation is a condition of registration and part of your renewal of registration. Members are required to participate in the CCP, regardless of employment status or when they first registered with the College.
Note: Members who plan to apply for the new retired class of certificate of registration in 2018 are still required to complete their CCP for 2017.
The CCP is self-directed: a wide variety of learning activities can count toward fulfilling your learning goals.
For more information on the CCP, contact Aleiya Yusaf, Administrator, Professional Practice, at ccp@ocswssw.org.